BEST GIFT FOR A PET LOVER
POP ART PUPS  For the hippest of pet owners, nothing is cooler than a pet portrait by Toronto's Paul Boddum.  While his contemporary style combines a definite air of kitsch (with wonderful explosions of color and patterns), every element is carefully selected to harmonize with the individual dog's look and character.  Paul personally consults with pet owners to ensure that each work is also reflective of the owner's sense of style and the unique connection he has with his animal.  Those who own one of Paul Boddum's works treasure it not only as a brilliant piece of art, but as a reflection of the love they have for their pets.  Paul requires two or three photos of the dog-subject to do a portrait.  Photos can be sent via email and work can be shipped anywhere in the world.
Paul Boddum 39 Olive Avenue,Toronto,Ontario
BEST PARK
ASHBRIDGE'S BAY PARK  If you would like to know where all Toronto's "de rigueur" dogs hang out, read on …  Torontians understand that their pooches are  vital social links.  A simple walk in Ashbridge's Bay Park (in the Beaches) has been the beginning of many new things, from lovers to careers.  There is just something about Ashbridge's Bay Park that seems to bring out the best in Torontians and their dogs.  Perhaps it has to do with the park's setting, right on the edge of Lake Ontario.  After visiting "the Beaches" enjoy a stroll with your pooch down the shopping strip nearby and check out all the dog-friendly stores, most of which leave out a bowl of water and even an odd dog biscuit.
Ashbridge's Bay Park, Queen Street East, The Beaches, Toronto, Ontario
best Pet GROOMING LINE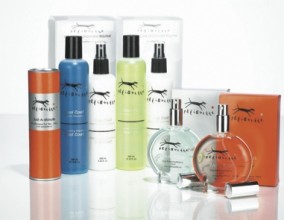 PETIQUETTE  Petiquette, a fabulous new Canadian company is setting a new "platinum" standard in the art of adoring your best friend.  Founded by Sheryl and Tamara Murie, life-long dog lovers and owners, Petiquette's dog spa products have a holistic edge.  The just-a-minute dry shampoo, for example, (a favorite amongst celebs like Portia Di Rossi and her dog Bean) is perfect for those who travel with their pooches.  Or if your beloved Rover's locks are in a terrible tangle, consider Petiquette's "Top Coat" – an amazingly effective two-in-one conditioning spray and matt remover.
Check out their funky website featuring their signature "Dog makeovers."
www.petiquette.ca
BEST PET-FRIENDLY HOTEL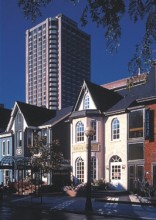 FOUR SEASONS  By far Toronto's swankiest pet-friendly hotel, Four Seasons Hotel Toronto is situated in the ultra-chic Yorkville district.  Four Seasons Hotel Toronto is the hotel of choice for the growing number of celebrities who travel with their pets.  The hotel staff goes beyond the call of duty to ensure their furry guests enjoy every minute of their stay.  Public Relations manager Anne Mortensen recounts one canine guest with a particularly sensitive pallet, who had an entire vegan menu created for him by the hotel's executive chef.  While for another pampered pooch the hotel lined an entire balcony with real grass so he could "roll" in total comfort.  The hotel, with notice, will arrange for a pet-sitter, dog walker and pet supplies.
Four Season Hotel Toronto, 21 Avenue Road, Toronto, Ontario
www.fourseasons.com
For the Best that Pet Lifestyle and Animal Welfare has to offer follow Wendy Diamond on Facebook, Twitter, and right here at AnimalFair.com!
Comments
comments