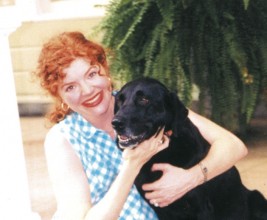 Your dog barks to alert you that the vans have pulled up.  Ty Pennington is setting up a construction site on your front lawn.  Paige Davis is at the door, bubbly and wide-eyed, summoning you because its time to make the switch.  Goodbye old room.  Your pooch jumps up to give Paige a lap on the cheek as if to say, "Don't let them forget about me."
Re-designing a living room when there are pets in the equation can be tricky business.  Two of the most pet-loving Trading Spaces personalities, Frank Bielec and Laurie Hickson-Smith, give us their insights on living with pets and decorating with them in mind.
Frank and Laurie's decorating tips: friendly to the four legged, and mindful of your pocketbook:
1)  Use pre-painted louvered doors to hide the catbox and food.  Take off the hardware.  This makes a perfect screen behind which the cats can do their business.
2)  Place padded baskets on the windowsills so pets can enjoy the views.
3)  Add a fresh water fountain in the living room.  The pets will love to drink from it and it's soothing on people too.
4)  Decorate food containers and pet doors so they match the room stylistically!
5)  Use decorative throws around the house that the pets can sit on.
6)  Sea grass, Sea grass, Sea grass – This fabulous material for rugs doesn't show stains.
7)  Machine washable slipcovers.  Stick with cotton and ultrasuede.
8)  Color:  White is a disaster waiting to happen!  Think taupe and plaids.
9)  Stay away from velvet, sofas with tacks, and Velcro.  These materials are magnets for pet hair!
For additional decorating tips, visit www.animalfair.com.
 Frank Bielec, an animal lover with loads of experience, puts his pets before his decorating ideals.  His house is bustling with two cats, Owen and Sadie, a gaggle of sugar gliders and any other downtrodden animal that happens upon his doorstep.  As he rehabilitates a dated kitchen to modern perfection, Frank likewise nurses a sick bluejay to health.  The ever-upbeat designer is a master of trompe d'oeil, a rags to riches craft that can transform plaster into marble: wallboard into stone.
Laurie Hickson-Smith   has not only designed rooms on Trading Spaces for pet owners, but also designed her own home, an old-style bungalow in Jackson, Mississippi, with her 9-year-old black Lab, Chelsea, in mind.  The ever-resourceful designer uses sea grass to cover her hardwood floors in the family room, calling the material, "a wonderful way to camouflage," has a dog bed area under the stairs, and uses elevated stainless steel bowls for her dog's food.  She calls her home classic and symmetrical, with contemporary art on the walls and, of course, a photo of Chelsea on her refrigerator.
– Jennifer Cattaui
For the Best that Pet Lifestyle and Animal Welfare has to offer follow Wendy Diamond on Facebook, Twitter, and right here at AnimalFair.com!
Comments
comments