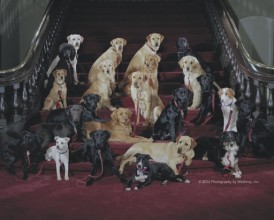 Millions of dog owners rely on their faithful canine companions to provide them with unconditional love and affection. However, there is a select group of very special dogs, whose job is a bit more demanding. These dogs' owners depend on them to perform jobs that, because of a physical disability, they have trouble performing themselves. Such jobs include everyday tasks, such as helping their owner get from place to place and even breaking down social barriers caused by their disability. As you can imagine, these dogs need special training. National Education for Assistance Dog Services, better known as NEADS, provides just that.
NEADS is a non-profit organization dedicated to providing hearing and service dogs for people who are hearing impaired or use wheelchairs. Their goal is to train these dogs to perform numerous small tasks which, when taken as a whole, provide their owner with a sense of freedom and independence he may not have had before.
Almost all of NEADS' hearing dogs are mixed breeds that were rescued from animal shelters and trained to alert their owners to household noises such as telephones and alarm clocks. Interestingly enough, the NEADS hearing dog program was the first of its kind.
Most of the dogs in the service dog program are golden and labrador retrievers and are donated as puppies. Their jobs are to become the arms or legs of people who use wheelchairs, crutches, etc. They can push buttons and flick switches, pick up items their owners drop, and pull wheelchairs. When training hearing and service dogs, NEADS caters to the recipient's special needs.
Once someone decides he wants an assistance dog from NEADS, he must fill out an application and be interviewed by a NEADS representative. If he is accepted, he is put on a waiting list until he can be matched with a loyal canine helper that is perfect for him. The whole process can take anywhere from six to 18 months and is well worth the wait. Once a recipient is paired with his dog, he spends a week or two on the campus bonding with the animal and learning how to work with it as a team.
Since NEADS started in 1976, the organization has changed the lives of hundreds of people by providing them with a new freedom through a new four-legged friend. Actress Mia Farrow was full of praise for NEADS after her son Thaddeus was teamed up with his service dog, Andre. She was thrilled to see how the dog changed his life!
For more information about NEADS, visit their website at www.neads.org.
– Karen Nace
For the Best that Pet Lifestyle and Animal Welfare has to offer follow Wendy Diamond on Facebook, Twitter, and right here at AnimalFair.com!
Comments
comments