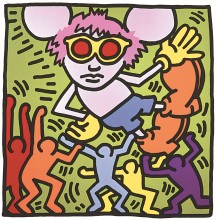 There was a time when art wasn't hidden away in museums.
During Europe's Middle Ages, for example, many of the pieces we now see kept behind glass sheets and velvet ropes were simply part of daily life– their beauty and their functionality inexorably interwoven. Goblets and spoons, for instance, were objects of aesthetic appreciation as well as everyday equipment. A knife was not just a tool, it was also a thing which spoke about its owner and creator.  Cooking, candle-making, architecture– all of these tasks were performed with a sense of aesthetics as well as mere practical necessity; with a sense of art as well as craft.
Today, sadly, most art is kept inside the proverbial ivory tower. No one adores their food processor for being exquisitely constructed or thinks their can-opener is a thing of epic beauty. Somewhere along the line, we took art out of our lives and stuffed it into a little cubbyhole. More accurately, we shipped it off to large, important looking buildings, and big white rooms. We made it the domain of an exclusive set– those with  "proper" arts backgrounds and education. Now, art is something we all go to see, rather than something we live with and do. Keith Haring tried to change all that. Haring wanted to get art out of the sanctum sanctorum and back where it belongs– with the people. He believed art isn't just for gallery walls, or high-priced auctions, but for the home, the office and the street.
The Pennsylvania-born Haring knew our compartmentalized approach to the arts is an awful thing for the human soul. He felt art wasn't just for trained professionals, critics and connoisseurs, but for anyone who wanted to pick up a pen, a camera, or a violin and try to make some magic happen; try to express something about themselves or their world.
Like friend and mentor Andy Warhol before him, Haring found art on grocery store shelves, in department store windows, in the way a cat posed perfectly on a sun drenched windowsill. Art happened when a coffee shop bulletin board overflowed with a mosaic of multi-colored flyers. It was found in the fluid beauty of steam rising through a manhole cover; and in the gaudy collages of glossy celebrity photographs beaming from corner newsstands. Art, in short, is where you find it, and where you make it. Keith Haring both found and made it just about everywhere he went.
An almost instinctual understanding of mass media was absolutely essential to Haring's crusade, and he couldn't understand why so many traditional painters and sculptors felt the need to separate themselves from society at large by refusing to deal with technology and pop culture in their work. Haring fervently felt that, on the contrary, an artist must embrace and explore technological change in order to have any relevance at all. As he said in the March 1984 issue of Flash Art, he was "amazed at the number of artists who continue working as if the camera were never invented, as if Andy Warhol never existed, as if airplanes and computers and videotape were never heard of."
He put these beliefs into action from almost the first moment he came to New York City. Arriving in 1978, ostensibly to attend The School of Visual Arts, one of Haring's first major undertakings in the city was a fascinating experiment with mass media and perception.
He used the most important "gallery space" of all for this project– the street, a venue which would serve him well throughout his (far too short) career. Haring turned himself to a sort of guerrilla media artist– cutting up tabloid newspaper headlines, combining the words in interesting ways and pasting this new version of the "news" all over Soho and Greenwich Village. These headlines were provocative, attention grabbing– often with sharply pointed political messages– and soon people all over the city were speculating about the mysterious force behind them.
But it was not the William Burroughs-inspired newspaper cutups which ultimately won him acclaim. Keith was fascinated by what was then the very beginnings of a subculture soon to be dubbed 'Hip Hop.'
In New York City of the late seventies/early eighties, the very first rappers were showing up in downtown clubs, the first breakdancers were spinning on street corners, and, especially important to Haring's work, legendary graffiti artists or "writers" were painting giant murals of swirling, stunning beauty on subway cars, bridges, blank walls of the city's public spaces.  True, some of these urban graffitiosos were, in the end, just vandals. But many were genuinely brilliant visual artists who used spray-cans as deftly as Rembrandt used a paintbrush and Jimi Hendrix played guitar.
While the achievements of these raw talents were ignored by many "serious" members of the arts community, Haring saw Hip-Hop for what is was– an ebullient expression of creativity bursting from the ghetto which soon would dramatically influence American popular music, art, film, TV, and fashion. Though careful not to exploit this aspect of African-American culture, Haring immediately became fascinated with this work: Its dismissal of traditional art conventions like frames, special lighting or gallery spaces; the wild, vibrant colors. He was particularly enamored of the "tags" or makeshift logos graffiti writers used to identify their work– a concept immediately incorporated to the development of his own talent.
That talent, above all else, was drawing. Even as a kid, Keith had been wizard with pen and pad. By the time he reached high school he had carved a social niche for himself with an uncanny ability to perfectly reproduce Disney characters with only a few sharp strokes of his magic marker. As an adult, he put these skills to use creating his own form of graffiti– a graffiti that would change the art world.
Haring simply started drawing all over town; on construction sites, on subways walls, on sidewalks. The drawings themselves were deceptively simple, almost primal; dogs, crawling babies, human figures dancing. One could almost have called them doodles.
Yet, using only the subtlest of artistic gestures like the brilliant Disney cartoonists he admired as a youngster, Haring somehow infused these forms with tremendous movement, power, and feeling. Further, these symbols were not randomly placed, but seemed somehow to correspond with, and comment upon, their surroundings. He thus turned everyday scenes into exhibition spaces: Construction sites became museums, subway tunnels turned to galleries. In a way, Keith Haring used the entire city of New York as his personal canvas. Fraught with meaning, yet easily understood by everyone from children to seniors, Keith Haring was able to take his own interior iconography and translate into the public realm. His doodles became our own.
Just as soon as this oddly compelling semiotic system began popping up all over town, it began garnering media attention. Before long the city's gallery scene was abuzz with speculation as to who might be behind this latest, weird new kind of public art. Keith Haring– still barely old enough to get into bars– had turned himself into an urban legend
Once the secret behind the mysterious graffiti was revealed, Keith quickly, of course,  became the darling of the downtown, hipster set. It would have then been easy for him to leave the streets and settle into the luxuriant, socially-conscious world of fine art circles. He didn't. Nor did he see any nobility in shunning the upper crust and living an affected life of pseudo-grungy bitterness. Instead, he radically changed the rules of the game, choosing to joyously embrace both worlds; fine art and popular culture, and, most importantly, trying to blur the distinctions between them. He succeeded in doing so, perhaps more than any other visual artist of the twentieth century.
Again, the key element of this success was his willingness to embrace change, to explore new avenues of expression– and specifically his belief in the value and authenticity of mass media. He dreamed of having his art be as accessible and recognizable as images of Mickey Mouse or Superman. For Haring, therefore, the poster was as important as the painting; the t-shirt as vital as the Paris runway model's gown; an national ad for Absolut vodka just as legitimate as some limited edition, special print run.
Crucial in spreading Haring's mass market gospel of was the Pop Shop, a store he opened (against the advice of almost everyone but Warhol) in 1986, dedicated to dispersing his work as widely as possible. From stationary, key chains, and coffee mugs, to that 80's fashion essential the Haring Swatch Watch, Keith tried to turn the everyday objects of our lives into sources of aesthetic pleasure.
In the meantime, this dynamo was also creating major "fine" works for prestigious exhibitions: The Whitney Biennial of 1983, the Bienal de Sao Paulo of 1985, The Museum of Contemporary Art in Bordeaux, the Paris Biennale of 1985, and the Stedelijk Museum in Amsterdam, just to name a few.
For this work he embraced an astonishing array of media; ceramics, gold, clay wood. You name a material, he probably worked with it. This gallery work is not incidentally still highly sought after by art collectors, proving Keith was right: Putting one's work on t-shirts and posters doesn't cheapen it either metaphorically or literally. It fact it makes it more valuable, both in terms of an artist's financial well-being, and in the more significant sense of "value."  Put simply, Haring proved that the more art, the more beauty. The more beauty, the more joy in the world.
Haring was diagnosed with AIDS in 1988. He spent the rest of his life working to help others, in particular educating people about the disease, and holding "art parties" for impoverished children to show kids how harnessing their own creative power can be the best hope for getting out of what seems like a hopeless situation. Animal welfare agencies also benefited from Haring's help, including works like the billboard he created for The Broward County Humane Society. (fig.3)
It wasn't just AIDS or animals, though. Keith Haring didn't just have a few pet (if you'll forgive the pun) causes. In fact, it would be a gross injustice to assert that he "did" charity work because, for Haring, work and charity were inseparable. Virtually everything he did during the course of his professional career was done in the name of bringing more art, to more people, in more different ways. He simply lived a charitable life, helping almost everyone who asked him– from individuals to giant charitable organizations– and he kept at it until he simply no longer had the physical strength to go on.
It seems silly to say Keith Haring lives on through his work. Every artist lives through his or her work. What Haring did was special. He helped, just a little bit, to break down those gallery walls; to bring art out of the stuffy, old museums and back into our homes, back into our hearts and minds.
Want to pay a tribute to Keith Haring? Don't worry about jetting off to the Louvre or buying some ten thousand dollar original. Next time you go to the kitchen for a cup of coffee or tea, just take a look at the mug. Take a moment to notice its shape, its color. Enjoy the solid feel in your hand. Then try to share that small moment of beauty with someone you love.
It doesn't get any more charitable than that.
For the Best that Pet Lifestyle and Animal Welfare has to offer follow Wendy Diamond on Facebook, Twitter, and right here at AnimalFair.com!
Comments
comments