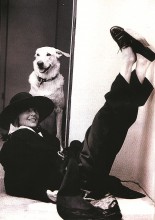 'Give the gift of saving lives' urges Diane Keaton, celebrity spokesperson for the Helen Woodward Animal Center's third annual 'Home 4 the Holidays' initiative, 'it's the very essence of Christmas.'
Over 1,000 animal shelters in the U.S., Canada, Mexico and Puerto Rico have joined forces to promote pet adoption during the holiday season, seeking to bring loving life-long homes to over 200,000 dogs and cats by January 6, 2002.  Keaton assures that shelters will carefully match the needs of adopter and adoptee to ensure excellent placement of each animal.  Last year's event was so successful that some shelters in Texas were said to have run out of animals entirely, a coup Keaton calls 'heartwarming'.
Lone Star strays a lucky bunch; Keaton herself adopted Red, a Corgie-mix, while shooting 'The Only Thrill', in Austin, Texas.  She recalls, "I came across an abandoned mutt walking along the side of the highway" and "was unable to resist [him]".  Keaton's previous dog that passed away at age twelve was also a stray that she adopted at Christmas time while in Italy.  This veteran of Hollywood knows well the joys of pet adoption, adding that 'loving animals is in my genes.'
Once mafia wife Kay Adams Corleone and quirky Annie Hall, now television series director, mother and animal advocate, Keaton has brought her enthusiasm to each new challenge.  "Life", Keaton says, "is all about taking more on", and what better to take on this holiday season than a needy pet, certain to make a house a home.
For the Best that Pet Lifestyle and Animal Welfare has to offer follow Wendy Diamond on Facebook, Twitter, and right here at AnimalFair.com!
Comments
comments