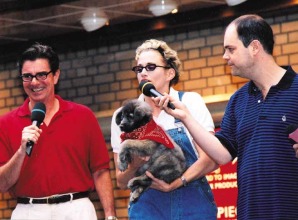 On a sunny Saturday afternoon, "Broadway Barks III" brought the brightest lights of Broadway out in front of the Schubert Alley theater for an auction to benefit animal adoption and welfare agencies. Tireless animal activists Bernadette Peters and Mary Tyler Moore co-hosted and were joined by famous faces of the Great White Way such as Cabaret star Brooke Shields, Sunset Boulevard's Betty Buckley, and Cady Huffman and Gary Beach of the smash hit The Producers.  Edie Falco from "The Sopranos" made the scene, and Mary-Louise Parker, currently receiving raves for her work in Proof, was just one of the stars who convinced a good-hearted soul from the audience to adopt a pooch in need.  Comic masters Buck Henry and George Segal brought laughter, while Broadway legends like Joel Gray and the inimitable Ben Vereen added luster to an already steamy afternoon.
There was a communal feeling in the air, theater stars and theater fans united by their compassion for the city's downtrodden critters.  Braving the heat on the streets, the whole shiny happy crowd joined as one to help save some genuinely sweet creatures from some genuinely dicey circumstances.
In addition to on-site adoptions, Broadway Barks boasted online auctions of celebrity-signed mementos.  The proceeds, of course, went to animal charities including; A Cause for Paws, Animal Haven, ASPCA, BARC Shelter, Bide-a-Wee, CACC, City critters, The Humane Society of New York, Kitty King, Loving Touch, Manhattan Valley Cat Rescue, Pet-I-Care, PLUTO Rescue, SICAW and The Tigger Foundation.
For the Best that Pet Lifestyle and Animal Welfare has to offer follow Wendy Diamond on Facebook, Twitter, and right here at AnimalFair.com!
Comments
comments