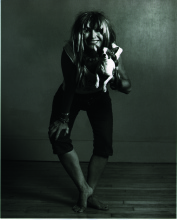 Mukti means liberation.
Last year, the Jivamukti Yoga Center and the Humane Society of New York teamed up for a fashion show gala fundraising event to raise money for a free Spay /Neuter program at the Humane Society's veterinary clinic in Manhattan. The exciting event raised more than $100,000 and was attended by a long list of celebrities including musician Michael Stype of R.E.M., actor Willem DeFoe, designers Donna Karan and Betsey Johnson, model Christy Turlington, and financier Donald Trump.
The event was so successful that the Humane Society and the Jivamukti Center will be reuniting for a silent auction on Amazon.com this June called Animal Mukti (liberation). Items to be auctioned off include Valerie Shaff photographs, original canine collar designs by stars such as Katie Couric and Tony Bennet, Drew Barrymore's Oscar gown, and more.
The photographs feature one of the Humane Society's success stories, a male Chihuahua named Pepe who posed with friends Christy Turlington, Sting, and others at the fashion benefit last year. Pepe, once a resident at the Humane Society, has now found a permanent and loving home in Florida and serves as the ambassador for all pups in his position.
More than 40,000 animals are euthanized annually in New York City. Proceeds from the Animal Mukti auction will help raise awareness and funds to combat the problem through a program of free citywide spaying and neutering.
Bidding for the 11 x 14 signed photographs will begin at $600 and all proceeds from the auction will benefit The Animal Mukti Free Spray/Neuter Program at the Humane Society of New York's veterinary clinic.  For more information regarding the date & auction of these photos check out www.animalfair.com
Comments
comments